Product Summary
The AGN200A4H is an ultra-small package slim polarized relay. The applications of the AGN200A4Hinclude Telephone exchange, transmission equipment, Communications devices, Measurement devices, Home appliances, and audio/visual equipment, Handheld and portable products.
Parametrics
AGN200A4H absolute maximum ratings: (1) Arrangement: 2 Form C; (2) Initial contact resistance, max.(By voltage drop 6V DC 1A): 100mΩ; (3)Contact material: Stationary: AgPd+Au clad, Movable: AgPd; (4)Nominal switching capacity (resistive load): 1A 30V DC,0.3A 125V AC; (5)Max. Switching power (resistive load): 30W, 37.5VA; (6) Max. Switching voltage: 110V DC, 125V AC; (7) Max. Switching current: 1A; (8) Min. switching capacity: 10μA 10mV DC; (9) Single side stable: 140mW (1.5 to 12V DC), 230mW (24V DC), 300mW (48V DC); (10)1 coil latching: 100mW (1.5 to 12V DC), 120mW (24V DC).
Features
AGN200A4H features: (1)Compact slim body saves space; (2)Outstanding surge resistance; (3)The use of twin crossbar contacts ensures high contact reliability; (4)Increased packaging density; (5)Nominal operating power: 140mW; (6)Outstanding vibration and shock resistance.
Diagrams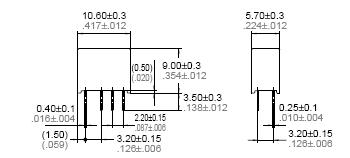 Image
Part No
Mfg
Description
Pricing
(USD)
Quantity

AGN200A4H

Panasonic Electric Works

Low Signal Relays - PCB 1A 4.5VDC DPDT NON-LATCH SMD

Data Sheet



| | |
| --- | --- |
| 0-1: | $2.43 |
| 1-25: | $2.16 |
| 25-50: | $2.05 |
| 50-100: | $1.84 |


AGN200A4HX

Panasonic Electric Works

Low Signal Relays - PCB 1A 4.5VDC DPDT NON-LATCH SMD

Data Sheet



AGN200A4HZ

Panasonic Electric Works

Low Signal Relays - PCB 2 Form C 1 Form A 30VDC SMD 4.5V

Data Sheet



| | |
| --- | --- |
| 0-500: | $1.61 |
| 500-1000: | $1.56 |
| 1000-2500: | $1.51 |
| 2500-5000: | $1.43 |