Product Summary
The MLX90808 is an integrated absolute pressure sensor realised in CMOS technology. It consists of an analog signal chain that interacts with the digital core and on-chip temperature sensor in order to provide uniform overall sensing characteristics after calibration and to cancel the temperature related parameter drifts. The output is proportional to the applied pressure with an adjustable slope and offset. The chip is ratiometric and goes rail-to-rail with a 1mA source and sink capability. The applications of the MLX90808 include Automotive applications (MAP, T-MAP, HVAC, …), Industrial applications, Barometric Air Pressure.
Parametrics
MLX90808 absolute maximum ratings: (1)Supply Voltage (overvoltage), VDD: -14 to 16 V; (2)Supply Voltage (operating), VDD: 4.5 to 5.5 V; (3)Supply Current, IDD with VDD = 16 V, IDD: 25 mA; (4)Output Voltage, Vout, Vout: -0.5 to 16 V; (5)Supply current with output shorted to 0V .. 16V, IDD: 100 mA; (6)Supply Current limit, reverse polarity, IDD: 160 mA; (7)Programming Temperature Range (ZAP cells), TP: -20 to 100℃; (8)Operating Temperature Range, TA: -40 to 140℃; (9)Storage Temperature Range, TS: -50 to 150℃; (10)ESD Sensitivity (AEC Q100 002): -2 to 2 kV.
Features
MLX90808 features: (1)Absolute Integrated Pressure sensor; (2)Less than 1% error range overall; (3)Programmable through the connector (3 pins); (4)Trimmable offset and sensitivity; (5)Ratiometric output; (6)Rail-to-Rail output; (7)Output proportional to the applied pressure; (8)Diagnostics of broken supply wires and broken sensor; (9)Output protected against short-circuits at both battery terminals; (10)On-chip Signal Conditioning (single die solution); (11)Different pressure ranges available.
Diagrams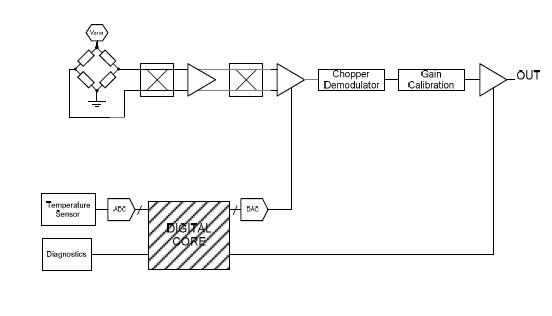 Image
Part No
Mfg
Description
Pricing
(USD)
Quantity

MLX90808

Other



Data Sheet

Negotiable
Image
Part No
Mfg
Description
Pricing
(USD)
Quantity

MLX90109

Other



Data Sheet

Negotiable

MLX90109EDC

Melexis Inc

IC RFID TXRX 125KHZ 8-SOIC

Data Sheet



| | |
| --- | --- |
| 1-2600: | $1.23 |
| 2600-5200: | $1.10 |


MLX90109EDC-AAA-000-RE



IC RFID TXRX 125KHZ 8-SOIC

Data Sheet



| | |
| --- | --- |
| 0-1: | $2.71 |
| 1-10: | $2.43 |
| 10-25: | $2.21 |
| 25-100: | $1.98 |
| 100-250: | $1.80 |
| 250-500: | $1.58 |
| 500-1000: | $1.35 |


MLX90121

Other



Data Sheet

Negotiable

MLX90121EFR

Melexis Inc (VA)

IC RFID TXRX 13.56MHZ 20-SSOP

Data Sheet



| | |
| --- | --- |
| 1-10: | $5.29 |
| 10-25: | $4.45 |
| 25-50: | $3.77 |
| 50-100: | $3.22 |
| 100-250: | $2.77 |
| 250-500: | $2.41 |


MLX90121EFR-DAA-000-RE



IC RFID TXRX 13.56MHZ 20-SSOP

Data Sheet



| | |
| --- | --- |
| 0-1: | $4.16 |
| 1-10: | $3.74 |
| 10-25: | $3.40 |
| 25-100: | $3.05 |
| 100-250: | $2.77 |
| 250-500: | $2.43 |
| 500-1000: | $2.08 |