Product Summary
The ST62T30BM6 is an 8-bit OTP/EPROM MCU with A/D converter which is targeted at low to medium complexity applications. The ST62T30BM6 is based on a building block approach: a common core is surrounded by a number of on-chip peripherals.
Parametrics
ST62T30BM6 absolute maximum ratings: (1)VDD Supply Voltage: -0.3 to 7.0V; (2)VI Input Voltage VSS: - 0.3 to VDD + 0.3V; (3)VO Output Voltage VSS: - 0.3 to VDD + 0.3V; (4)IO Current Drain per Pin Excluding VDD, VSS: ±10mA; (5)IVDD Total Current into VDD (source): 50mA; (6)IVSS Total Current out of VSS (sink): 50mA; (7)Tj Junction Temperature: 150℃; (8)TSTG Storage Temperature: -60℃ to 150℃.
Features
ST62T30BM6 features: (1)3.0 to 6.0V Supply Operating Range; (2)8 MHz Maximum Clock Frequency; (3)-40 to +125°C Operating Temperature Range; (4)Run, Wait and Stop Modes; (5)5 Interrupt Vectors; (6)Look-up Table capability in Program Memory; (7)Data Storage in Program Memory: User selectable size; (8)Data RAM: 192 bytes; (9)Data EEPROM: 128 bytes; (10)User Programmable Options; (11)20 I/O pins, fully programmable as: Input with pull-up resistor, Input without pull-up resistor, Input with interrupt generation, Open-drain or push-pull output, Analog Input; (12)4 I/O lines can sink up to 20mA to drive LEDs or TRIACs directly; (13)8-bit Timer/Counter with 7-bit programmable prescaler; (14)16-bit Auto-reload Timer with 7-bit programmable prescaler (AR Timer); (15)Digital Watchdog; (16)8-bit A/D Converter with 16 analog inputs; (17)8-bit Synchronous Peripheral Interface (SPI); (18)8-bit Asynchronous Peripheral Interface (UART); (19)On-chip Clock oscillator can be driven by Quartz Crystal or Ceramic resonator; (20)Oscillator Safe Guard; (21)One external Non-Maskable Interrupt; (22)ST623x-EMU2 Emulation and Development System (connects to an MS-DOS PC via a parallel port).
Diagrams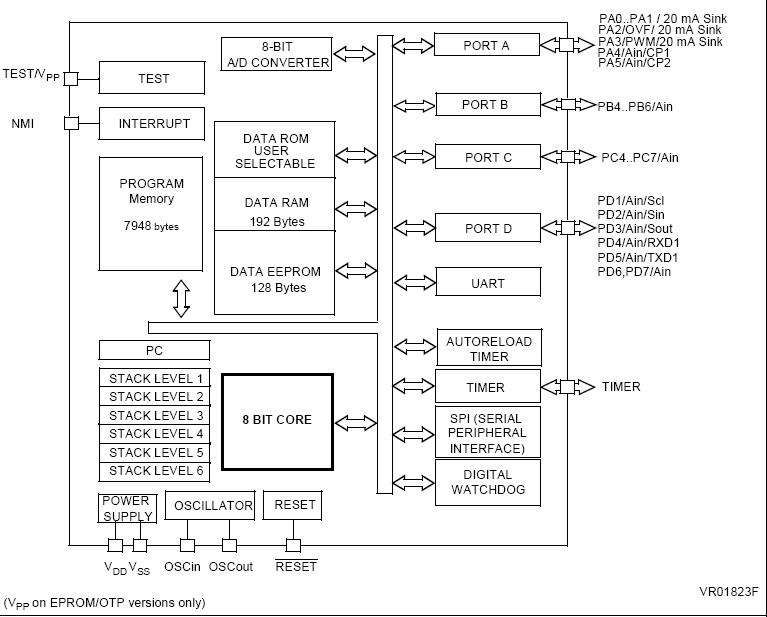 Image
Part No
Mfg
Description
Pricing
(USD)
Quantity

ST62T30BM6

STMicroelectronics

8-bit Microcontrollers (MCU) OTP EPROM 8K SPI/UAR

Data Sheet

Negotiable
Image
Part No
Mfg
Description
Pricing
(USD)
Quantity

ST62

Other



Data Sheet

Negotiable

ST62 & ST7

Other



Data Sheet

Negotiable

ST6200C

Other



Data Sheet

Negotiable

ST6200L

Other



Data Sheet

Negotiable

ST6200QNL

Pulse

Transformers Audio & Signal POWER IND

Data Sheet



| | |
| --- | --- |
| 0-1: | $3.85 |
| 1-10: | $3.11 |
| 10-100: | $2.48 |
| 100-500: | $2.27 |


ST6200QNLT

Pulse

Power Transformers SMT HIGH CURRENT IND

Data Sheet



| | |
| --- | --- |
| 0-410: | $2.48 |
| 410-500: | $2.27 |
| 500-900: | $2.27 |
| 900-1000: | $2.15 |