Product Summary
The CA3082 is a silicon NPN transistor. The CA3082 consists of seven high current (to 100mA) silicon NPN transistors on a common monolithic substrate. The CA3082 is connected in a common collector configuration. The applications of the CA3082 include: (1) Drivers for Incandescent Display Devices; LED Displays; (2) Relay Control; (3) Thyristor Firing.
Parametrics
CA3082 absolute maxing ratings: (1) Collector-to-Emitter Voltage (VCEO): 16V; (2) Collector-to-Base Voltage (VCBO): 20V; (3) Collector-to-Substrate Voltage (VCIO): 20V; (4) Emitter-to-Base Voltage (VEBO): 5V; (5) Collector Current (IC): 100mA; (6) Base Current (IB): 20mA.
Features
CA3082 features: (1)Common Collector Array; (2)Directly Drive Seven Segment Incandescent Displays and Light Emitting Diode (LED) Display; (3)7 Transistors Permit a Wide Range of Applications in Common Collector Configuration; (4)High IC: 100mA (Max); (5)Low VCESAT (at 50mA): 0.4V (Typ).
Diagrams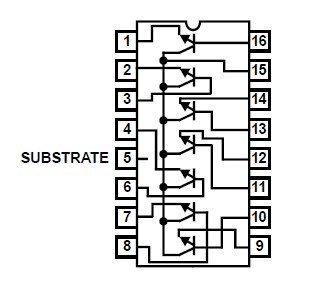 Image
Part No
Mfg
Description
Pricing
(USD)
Quantity

CA3082

Intersil

GEN.P. HIGH CURR. NPN TRANS. C.C

Data Sheet

Negotiable
Image
Part No
Mfg
Description
Pricing
(USD)
Quantity

CA30

Other



Data Sheet

Negotiable

CA300

Extech

Clamp Multimeters & Accessories REORDER 685-CA310

Data Sheet

Negotiable

CA3019

Other



Data Sheet

Negotiable

CA302

Altech

Terminal Block Tools & Accessories End stop 35x7.5mm DINRail

Data Sheet



| | |
| --- | --- |
| 0-1: | $0.22 |
| 1-50: | $0.21 |
| 50-100: | $0.20 |
| 100-500: | $0.19 |


CA3020

Other



Data Sheet

Negotiable

CA3020A

Other



Data Sheet

Negotiable