Product Summary
The mcp4822 is a 2.7V–5.5V, low-power, low DNL, 12-bit Digital-to-Analog Converter (DAC) with internal band gap voltage reference, optional 2x-buffered output and Serial Peripheral Interface (SPI.). The mcp4822 provides high accuracy and low noise performance for industrial applications where calibration or compensation of signals (such as temperature, pressure and humidity) are required. The mcp4822 is available in the extended temperature range and PDIP, SOIC and MSOP packages. The applications of the mcp4822 include Set Point or Offset Trimming, Sensor Calibration, Precision Selectable Voltage Reference, Portable Instrumentation (Battery-Powered), Calibration of Optical Communication Devices.
Parametrics
mcp4822 absolute maximum ratings: (1)VDD: 6.5V; (2)All inputs and outputs: AVSS -0.3V to VDD +0.3V; (3)Current at Input Pins: ±2 mA; (4)Current at Supply Pins: ±50 mA; (5)Current at Output Pins: ±25 mA; (6)Storage temperature: -65℃ to +150℃; (7)Ambient temp. with power applied: -55℃ to +125℃; (8)ESD protection on all pins: ≥ 4 kV (HBM), ≥ 400V (MM); (9)Maximum Junction Temperature (TJ): +150℃.
Features
mcp4822 features: (1)12-Bit Resolution; (2)±0.2 LSb DNL (typ.); (3)±2 LSb INL (typ.); (4)Single or Dual Channel; (5)Rail-to-Rail Output; (6)SPI Interface with 20 MHz Clock Support; (7)Simultaneous Latching of the Dual DACs with LDAC pin; (8)Fast Settling Time of 4.5μs; (9)Selectable Unity or 2x Gain Output; (10)2.048V Internal Band Gap Voltage Reference; (11)50ppm/℃ VREF Temperature Coefficient; (12)2.7V to 5.5V Single-Supply Operation; (13)Extended Temperature Range: -40℃ to +125℃.
Diagrams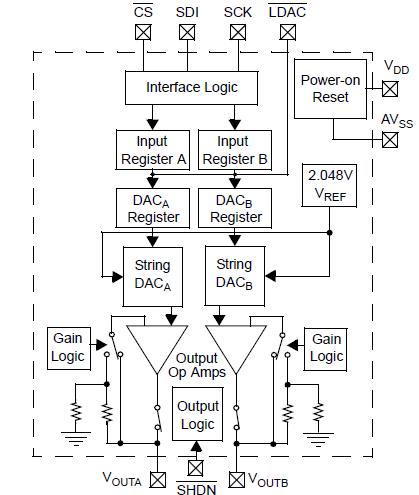 Image
Part No
Mfg
Description
Pricing
(USD)
Quantity

MCP4822

Other



Data Sheet

Negotiable

MCP4822-E/MS

Microchip Technology

DAC (D/A Converters) Dual 12-bit DAC

Data Sheet



| | |
| --- | --- |
| 0-1: | $1.90 |
| 1-10: | $1.80 |
| 10-25: | $1.50 |
| 25-100: | $1.36 |


MCP4822-E/P

Microchip Technology

DAC (D/A Converters) Dual 12-bit DAC

Data Sheet



| | |
| --- | --- |
| 0-1: | $1.90 |
| 1-10: | $1.80 |
| 10-25: | $1.50 |
| 25-100: | $1.36 |


MCP4822-E/SN

Microchip Technology

DAC (D/A Converters) Dual 12-bit DAC

Data Sheet



| | |
| --- | --- |
| 0-1: | $1.90 |
| 1-10: | $1.80 |
| 10-25: | $1.50 |
| 25-100: | $1.36 |


MCP4822T-E/MS

Microchip Technology

DAC (D/A Converters) Dual 12-bit DAC

Data Sheet



| | |
| --- | --- |
| 0-1735: | $1.39 |
| 1735-2500: | $1.39 |


MCP4822T-E/SN

Other



Data Sheet

Negotiable