Product Summary
The MY2N is a general purpose relay.
Parametrics
MY2N specifications: (1)Rated voltage (V): 24; (2)Rated current (mA): 36.9; (3)Coil resistance (Ω): 650; (4)Coil inductance(ref. value)(H)Armature OFF: 3.20; Armature ON: 5.72; (5)Pick-up voltage(% of rated voltage): 80% max.; (6)Dropout voltage(% of rated voltage): 10% min.; (7)Maximum voltage(% of rated voltage): 110% max.; (8)Power consumption(VA, W): Approx. 0.90.
Features
MY2N features: (1)Designed small, 2- and 3-pole types break 5 A loads and 4-pole type, 3 A load; (2)High reliability, long life; (3)Ura-high sensitivity with quick response; (4)High vibration/shock resistance; (5)3- and 4-pole types have an arc barrier; (6)UL and CSA approved; (7)Withstands dielectric strength of 2,000 V; (8)Relays with high-capacity, LED indicator, diode surge suppression, push-to-test button, or RC circuit are available.
Diagrams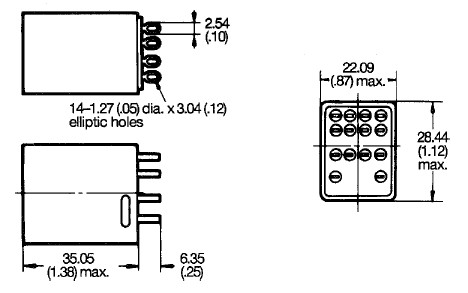 Image
Part No
Mfg
Description
Pricing
(USD)
Quantity

MY2N AC110/120 (S)

Omron Industrial

General Purpose / Industrial Relays SUPER MY

Data Sheet

Negotiable

MY2N AC12 (S)

Omron Industrial

General Purpose / Industrial Relays SUPER MY

Data Sheet



| | |
| --- | --- |
| 0-1: | $4.69 |
| 1-25: | $4.22 |
| 25-50: | $3.99 |
| 50-100: | $3.74 |


MY2N AC200/220 (S)

Omron Industrial

General Purpose / Industrial Relays Super MY

Data Sheet



| | |
| --- | --- |
| 0-1: | $5.19 |
| 1-25: | $4.91 |
| 25-50: | $4.64 |
| 50-100: | $4.36 |


MY2N AC220/240 (S)



RELAY GEN PURPOSE DPDT 5A 240V

Data Sheet



| | |
| --- | --- |
| 0-1: | $10.07 |
| 1-25: | $9.06 |
| 25-50: | $8.05 |
| 50-100: | $7.25 |
| 100-250: | $6.85 |
| 250-500: | $6.04 |
| 500-1000: | $5.44 |


MY2N AC24 (S)

Omron Industrial

General Purpose / Industrial Relays SUPER MY

Data Sheet

Negotiable

MY2N AC48/50 (S)

Omron Industrial

General Purpose / Industrial Relays Super MY

Data Sheet



| | |
| --- | --- |
| 0-1: | $2.65 |
| 1-5: | $2.59 |
| 5-10: | $2.50 |
| 10-25: | $2.41 |


MY2N AC6 (S)

Omron Industrial

General Purpose / Industrial Relays Super MY

Data Sheet



| | |
| --- | --- |
| 0-1: | $4.34 |
| 1-25: | $4.11 |
| 25-50: | $3.89 |
| 50-100: | $3.65 |


MY2N DC100/110 (S)

Omron Industrial

General Purpose / Industrial Relays SUPER MY

Data Sheet



| | |
| --- | --- |
| 0-1: | $5.21 |
| 1-25: | $4.91 |
| 25-50: | $4.28 |
| 50-100: | $3.92 |