Product Summary
The TPIC6A595NE is a monolithic, high-voltage, high-current power logic 8-bit shift register. The TPIC6A595NE is designed for use in systems that require relatively high load power. The TPIC6A595NE contains a built-in voltage clamp on the outputs for inductive transient protection. Power driver applications include relays, solenoids, and other medium-current or high-voltage loads. Each open-drain DMOS transistor features an independent chopping current-limiting circuit to prevent damage in the case of a short circuit.
Parametrics
TPIC6A595NE absolute maximum ratings: (1)Logic supply voltage, VCC: 7V; (2)Logic input voltage range, VI: –0.3V to 7V; (3)Power DMOS drain-to-source voltage, VDS: 50V; (4)Continuous source-drain diode anode current: 1A; (5)Pulsed source-drain diode anode current: 2A; (6)Pulsed drain current, each output, all outputs on, IDn, TA = 25℃: 1.1A; (7)Continuous drain current, each output, all outputs on, IDn, TA = 25℃: 350mA; (8)Peak drain current, single output, TA = 25℃: 1.1A; (9)Single-pulse avalanche energy, EAS: 75mJ; (10)Avalanche current, IAS: 600mA; (11)Continuous total dissipation: See Dissipation Rating Table; (12)Operating case temperature range, TC:–40℃ to 125℃; (13)Operating virtual junction temperature range, TJ:–40℃ to 150℃; (14)Storage temperature range, Tstg:–65℃ to 150℃; (15)Lead temperature 1,6 mm (1/16 inch) from case for 10 seconds: 260℃.
Features
TPIC6A595NE features: (1)Low rDS(on): 1Ω Typ; (2)Output Short-Circuit Protection; (3)Avalanche Energy: 75mJ; (4)Eight 350-mA DMOS Outputs; (5)50-V Switching Capability; (6)Devices Are Cascadable; (7)Low Power Consumption.
Diagrams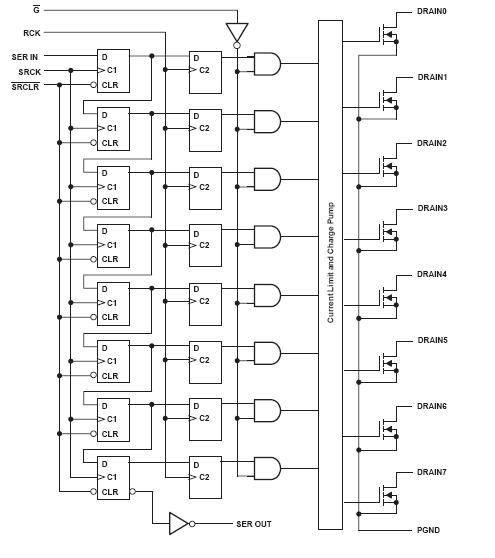 Image
Part No
Mfg
Description
Pricing
(USD)
Quantity

TPIC6A595NE

Texas Instruments

Counter Shift Registers 8bit Shift

Data Sheet



| | |
| --- | --- |
| 0-1: | $2.06 |
| 1-25: | $1.87 |
| 25-100: | $1.50 |
| 100-250: | $1.31 |

Image
Part No
Mfg
Description
Pricing
(USD)
Quantity

TPIC0107B

Other



Data Sheet

Negotiable

TPIC0107BDWP



INTEL H-BRIDGE 180 MOHM 20-HSOIC

Data Sheet



| | |
| --- | --- |
| 0-1: | $2.70 |
| 1-25: | $2.16 |
| 25-100: | $1.68 |
| 100-250: | $1.60 |


TPIC0108B

Other



Data Sheet

Negotiable

TPIC0108BDWP



INTEL H-BRIDGE 180 MOHM 20-HSOP

Data Sheet

Negotiable

TPIC0108BDWPR



INTEL H-BRIDGE 180 MOHM 20-HSOIC

Data Sheet

Negotiable

TPIC0298

Other



Data Sheet

Negotiable